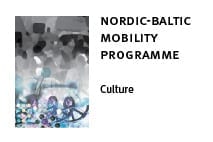 In 2019, Skaftfell is able to offer two residency grants for Nordic and Baltic artists, courtesy of the Nordic-Baltic Mobility Programme.
Artists with a permanent address in the following countries are eligible to apply: Denmark, Estonia, Finland, the Faroe Islands, Greenland, Iceland, Latvia, Lithuania, Norway, Sweden and the Åland Islands.
The grant is provided for a 2-month residency at Skaftfell. It includes:
International and domestic travel, up to 800€.
Per diem for two months, up to 840€ a month
Fully covered residency fee
Project budget, up to 350€.
The Goethe-Institut residency grant for artists based in Germany is currently undergoing revision. We hope to be able to offer it again for residencies in 2020.