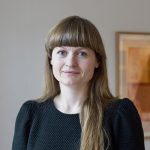 Tinna Guðmundsdóttir is a cultural manager, producer and an artist. She graduated with a B.A. from multimedia department in the Iceland Academy of the Arts in 2002 and subsequently completed a teacher's diploma from the same school. In 2008 she finished her M.A. in Cultural Management from Bifröst University. Tinna worked as an office manager at the Reykjavik Academy from 2005-2008 and as the manager of the Living Art Museum from 2009-2011. She has also worked on several independent projects such as Lortur Biennale, Sequences Real-Time Art Festival in 2008 and as the editor of the publication The Living Art Museum 1978-2008, published in 2010.  Alongside working in Skaftfell, Guðmundsdóttir is currently producing a documentary entitled Seeing Eye Dog that will be released in 2017.
---
Julia Martin is an artist and landscape architect from Berlin. She holds a Ph.D. in art from Goldsmiths, University of London, an M.F.A. from Edinburgh College of Art, and an M.A. in landscape architecture from the Technical University Berlin. Her performative actions, drawings, photocollages, installations, and writings investigate the relationships between objects and agents in space and time, and have recently focused on developing her concept of hyperextended ecological objects.
---
Hanna Christel Sigurkarlsdóttir, education manager
fraedsla(a)skaftfell.is
Hanna Christel Sigurkarlsdóttir is an artists and a member of the creative team Ro-Sham-Bo, working with all kinds of creative projects from lay outing to wool mattress making. Since her graduation from the Iceland Academy of the Arts, fine art department in 2002, she has participated in numerous group shows as well as having few private exhibitions.
---
Interns
2018:
Jenny Niinimaa, Pekka Halonen Academy
Ninni Olllikainen, Pekka Halonen Academy
Carlotta von Haebler, Stiftung Universität Hildesheim
2016: Eva Jaskova, AAAD Prague
2015: Lisa Paland, Hochshule Merseburg
2014: Becky Forsythe, Georgian College
2013: Jasmin Meinold, HBK Braunschweig