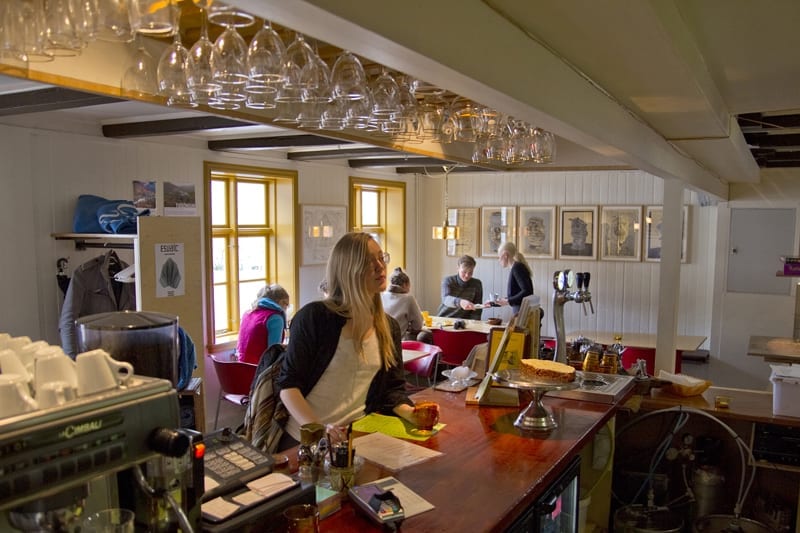 Skaftfell Bistro offers fulfilling food, pizzas, aromatic coffee, delicious cakes and sweets, ale, wine and other beverages. Skaftfell is, amongst other things, the residence of the Dieter Roth Academy and the Bistro is furnished in the spirit of the late artist Dieter Roth. There his book works are on display along with other interesting art books and book art. In the Bistro you can read the newspapers and cruise the Internet with a PC computer or use the wireless Internet for your own laptop.
About the Bistro
The Bistros´ interior is designed by Björn Roth. Björn dedicated the south-east corner to his father; Swiss artist Dieter Roth (1930-1998). Roth lived and worked in Seydisfjord for periods of time during the last decade of his life and had was a great influence on the local cultural life. The Skaftfell group, who founded the center, consists of a group of people that enjoyed the company of Roth and the center is an offspring of that inspiring dialogue. The shelves and table are made in the same way as Roth had in his studio. Paper and pens are always available and all drawings, sketches and scribbles which the guests leave behind are collected and bound together to make an annual book which cites the magazine Review For Everything published by Roth 1975-1987 and had no editor and published everything. Older volumes of the magazine and the annual books are on display in the Skaftfell Library.
The library is a collection of books on art and theory, artist books, annual publications, exhibition, residency and project catalogues, and other related texts. The library also contains a special selection of Dieter Roth's book works, catalogues, and documentation of his life as an artist. Some of the books have come to us via artists who have stayed in residency here in Seyðisfjörður, while others have been acquired over time, or secretly deposited with us. The collection is open to the public – to explore and enjoy.
 Skaftfell Bistró is on: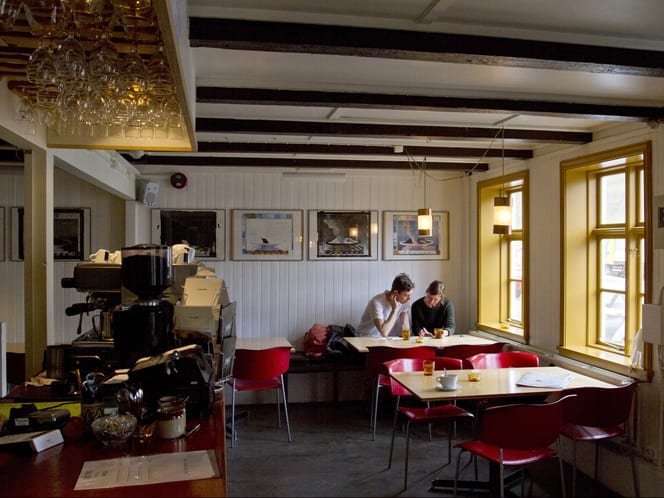 Updated: 08.09.17
Photos: Paula Prats