Landscape and sound figures is the title Skaftfells art education project for the winter of 2017-2018 with the sound sculpture Tvísöngur, by German artists Lukas Kühne, as the main focus. Tvísöngur was built 5 years ago and has ever since been a very popular and frequently visited by the local community and travellers.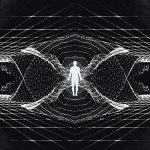 To celebrate this milestone the young generation of East Iceland is invited for a visit Tvísöngur and participate in a workshop with the aim of discovering its structure, function and interplay with surrounding nature. Among the concepts that will be examined are form, space, waves and perception. The fluctuation of sound often makes visual patterns and can sometimes be seen in nature such as water ripples. In this context different sounds will be examined, how they are perceived and experienced as form and drawings.
During the workshop students will travel to Seyðisfjörður, hike up to Tvísöngur and solve an assignment under the guidance of an instructor. The students will also be invited for a guided tour of the ongoing exhibition in the Skaftfell gallery, Edge Effects.
The program is led by the artists Guðrún Benónýsdóttir and Guðný Rúnarsdóttir. They are both graduated with a Master's Degree in Art Education and have an extensive experience in children's art education. Guðný is a faculty member of the Arts Department in The Iceland Art Academy. Guðrún works independently as a visual artist and owns a publishing company, 'uns that focuses on books, multiples and artistic related topics.
Since 2007, Skaftfell has been developing art education projects, where all primary schools in the East Iceland are invited to participate free of charge. The projects are different from each other year to year, but always with a focus on visual art.
Landscape and sound figures is supported by The East Iceland Regional Development Fund and the Alcoa Community Fund.
Acoustic modeling: Oliver McIntyre, www.olivermcintyre.co.uk/tvisongur
Photo of Tvísöngur: Goddur