Norðurgata 7, Seyðisfjörður
Artist in residence Anna Vaivare has been working tirelessly on finishing her latest mural, and now it is done! Come and see this beautifully cheerful addition to the house in Norðurgata 7, also called "Magasín", as it used to be a shoe shop – a historical detail that you can find hidden in the wall painting.
The inauguration and good-bye party for Anna takes place on Saturday, June 5th, from 20:00 in the garden of Norðurgata 7. Everyone is welcome!
Published works by Anna will be available for sale in the Skaftfell store from June 17 onwards.
Anna Vaivare is an artist from Latvia mostly working in illustration and other graphic forms of transmitting stories and experiences. She started her professional career as an architect after graduating from Riga Technical University Faculty of Architecture and Urban Planning. Having created and published a number of short comics, and having illustrated five children's books she then studied for a Master degree at the Art Academy of Latvia Printmaking department.
Anna has been in residency at Skaftfell in April and May, supported by the Nordic Baltic Mobility Programme (Nordic Culture Point).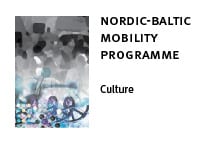 Photos: Magdalena Noga