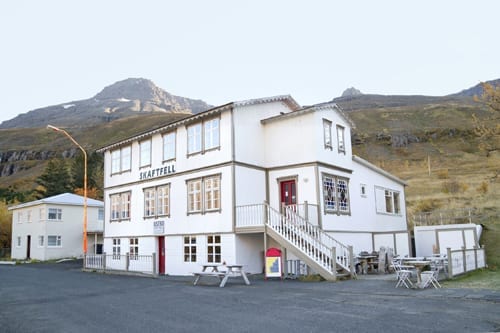 Skaftfell – Center for Visual Art serves as the regional visual art center for East Iceland. Located on Austurvegur 42 in Seyðisfjörður, it is one of the three cultural centers in the region, which operate according to an agreement on cultural issues between the state and municipalities in East Iceland.
Skaftfell is an independent art organization. It was founded in 1998 by a group of art enthusiasts in Seyðisfjörður, in memory of Swiss artist Dieter Roth, who lived and worked in Seyðisfjörður for periods of time between 1991-1998 and had a strong influence on the cultural life of the town, which continues to this day. The art center takes its name from the three-storey timber house it is situated in, built in 1907.
Devoted to the presentation and dissemination of contemporary art on an international level, Skaftfell is running a busy exhibition-, education- and residency program throughout the year. The building houses the main gallery and bookstore on the middle floor, an artist apartment on the top floor, and the bistro, the West Wall gallery and a small art library on the ground floor. The office is located in Öldugata 14.
Within the region the art center plays an important role as a venue for experienced and emerging artists from Iceland and abroad, and as provider and promoter of high quality art education for all age groups. It is also the guardian of a minuscule house previously owned by a local naive artist Ásgeir Emilsson (1931-1999).
As a meeting point for artists and the general public, Skaftfell aims to make the experience of contemporary art accessible and inviting, as well as intriguing and expansive for the mind. In 2013, Skaftfell received the Eyrarrósin Award for outstanding cultural work in a rural area.